Custom Web Design
Sales and Marketing
Present your product or service in the best light and help people make a buying decision with the facts.

Search Engine Optimization
Using keywords, meta tags and content to help your pages get found by the search engines.

Dynamic Content
Arranging your site so fresh content is easily managed and relevant information is presented.

Customer Service
Treat your customers with the respect they deserve. Increase availability and appreciation.

Competitive Rates
Web design fees can range from $300 to $6,000. Contact us to discuss a quote.

Examples
See examples of web design work on our Customer List.
Web Design
World Centre, Inc. has been providing web design services to businesses and organizations since 1995. During these years a great deal of experience has been gained. We take a no-nonsense approach to using the internet in business. It is the most cost effective way to communicate, and your website is your company's face to the world.
Telling Your Story with Words and Pictures.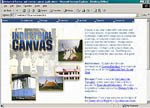 We will carefully capture the essence of your business in words and pictures - because we believe it's "all about relationship". Your customers and prospects are going to make lasting impressions about who you are and what you do based on what they find on your website. We'll help you put your best foot forward.
Sales
Whether you are selling a product or service, the internet can help. We have customers that are selling products through e-commerce (shopping carts and catalogs), as well as through order forms and product cards.
But there are some products that don't lend themselves to selling over the internet, either because of their geographic specific nature or limitations with shipping. With these, the internet presence can be an effect tool to make the sale easier.
Service
Customer service is how you receive repeat business as well as referrals. Keep the channels of communication open between you and your customers - using the internet as one way they can get in contact with you at anytime of day or night.
Design Considerations
World Centre, Inc. has been designing websites for many years, developing the technique of combining search engine considerations with real-world viewing pleasure. Our discussions with you will determine if you need a web design from the "ground-up" or if your need is for converting your existing marketing material into an electronic brochure.
Cost (Bid or Estimate)
The cost of a custom web design is completely dependent on the amount of time it is expected to take to develop. After our initial consultation, a recommendation will be made. In that recommendation you can request a bid or an estimate.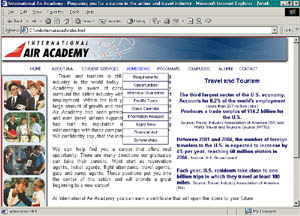 A bid is an offer to build your website at a negotiated price. The price is determined by World Centre as a fair and reasonable amount based on the amount of time that it will take to develop the site. The bid is your actual cost for the development.
An estimate is an offer to build your website at a negotiated hourly rate. The actual cost can be a little more or a little less than the estimate, depending on the number of hours it actually takes.
Increasing Value
Reducing cost and increasing value is always an important strategy for business people. We will discuss the pros and cons of "doing it yourself", all or in part. Obviously, if you have graphics and copy already completed, it will cost a lot less for the development. We want you to get the highest and best use - because we're convinced that a well designed website will be an important contributor to your profit margin.
Free Introductory Consultation
To find out more about what a website could do for your business, or to get an estimate on how much it will cost to complete one, contact us to schedule an Introductory Consultation.